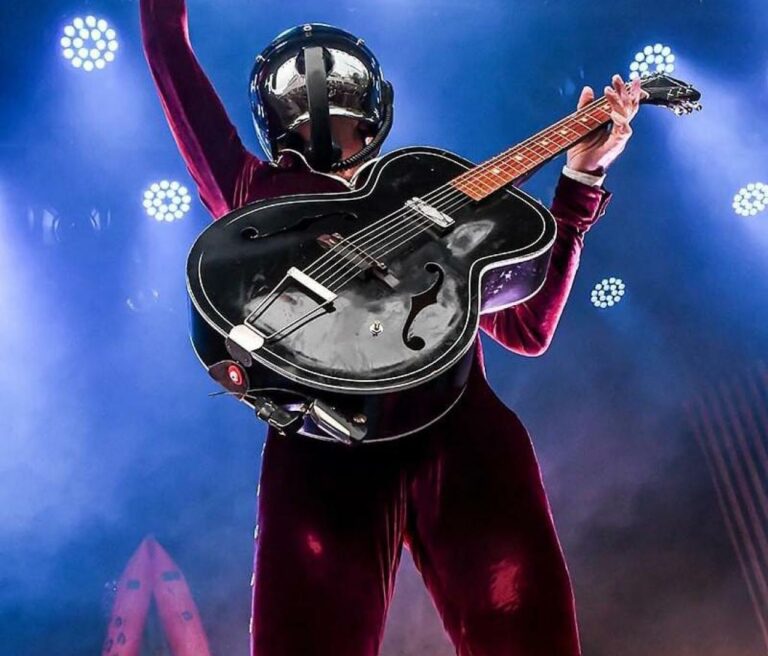 in accordance with JOSTONE TRAFFIC
A perverted product of the Arizona desert, Bob Log III has assiduously traversed the globe since 1996, demonstrating his incomparable talents and gathering a host of devoted fans along the way.
Dressed in his extra-tight hotman jumpsuits and motorcycle helmet with built-in phone/microphone, Bob Log III invariably ends up in a sweat, playing right-footed bass drum, left-footed homemade cymbal and slide on an old archtop guitar.
He's a tireless musical rabble-rouser and a real party-goer, which has earned him gigs at everything from children's birthday parties and obscure barn-beer parties to the biggest festivals … and everything in between.
Behind this mesmerizing image on stage, the (real) reason why Bob Log III has become a superhero adored the world over is this: his guitar playing. Lightning-fast finger picking, gliding up and down the fretboard, stopping when he feels like it, then picking up again when he feels like it, all of which makes you move uncontrollably, dizzy and smiling!
And it's mathematical: with the sole exception of Hasil Adkins, Bob Log III has inspired ALL other one-man bands!