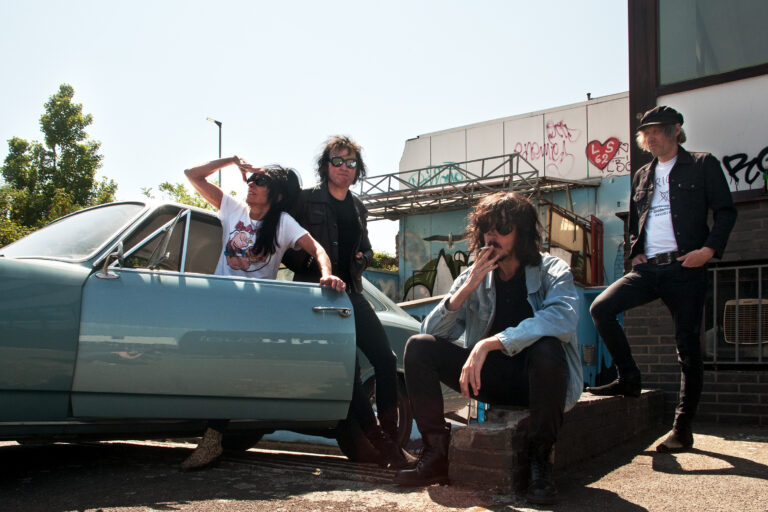 Undoubtedly, The Gee Strings are one of the outstanding ´77 punkrock bands in Europe. With authentic and sovereign raw energy, they passionately blast their 2 minute songs through the speakers, always with the optimal doses of sex, sweat, and rock & roll.
Influenced by the Sex Pistols, Heartbreakers, The Stooges, and of course, the Ramones, The Gee Strings create their own convincing punk rock & roll of international quality, not only regarding their live performance. Their dirty, catchy songs, somewhere between Detroit and New York ´74 and London ´77, are crowned with the voice and inimitable stage show by female lead singer Ingi Pop.
Their third album "Arrest Me" brought out by the American punkrock label Dead Beat Records, has received celebratory reviews in fanzines everywhere. All Gee Strings recordings have by now also been released by various South American labels  (see the discography). A Best Of Compilation is released on Revell Yell Music in Japan.
Since 1994 they have performed over 600 live shows in Germany, Belgium, Holland, Switzerland, France, Italy and Spain on occasions with Turbonegro, The Stitches, Antiseen and Dead Moon. They have also been on the same ticket touring with the Buzzcocks and The Lurkers. Their 2002 and 2003 tours through Brazil were, not to say the least, full of adventure and inspiration.
Ingenius Pop (often named Germany´s Joan Jett) who´s rock´n´roll lifestyle has irreparably taken one set of her vocal chords and guitarjunkie Bernadette (over 6-foot tall, effeminately made-up and rarely seen without a guitar in his hands) started the band in the early nineties. Furthermore, Bernadette is busy with recordings and gigs around Europe playing with The 60´s Garage Punksters The Morlocks and played with US – Punk Rock legends Sonny Vincent (ex –  Testors) and Scott " Deluxe" Drake (The Humpers).
With Alex from The Satelliters on drums and spanish Dynamite Curtis on bass, The Gees have a Top Rhythm Team at the start again !!
A brandnew Gees Record "Speed Soul Racer" will be out in 2023 in Cooperation with Wanda Records (Germany), Ghost Highway Recordings and KOTJ Records (Spain) and Dangerhouse Skylab & Stryckhnine Recordz (France)
The new Album was recorded in Besancon at Cube Studio and mixed by Maxime Smadja (Les Lullies, Rixe, BOSS) at Chateau Vergogne in Paris, who adds a fresh production to the Gees Sound on the upcoming record. Mastering by Jim Diamond!