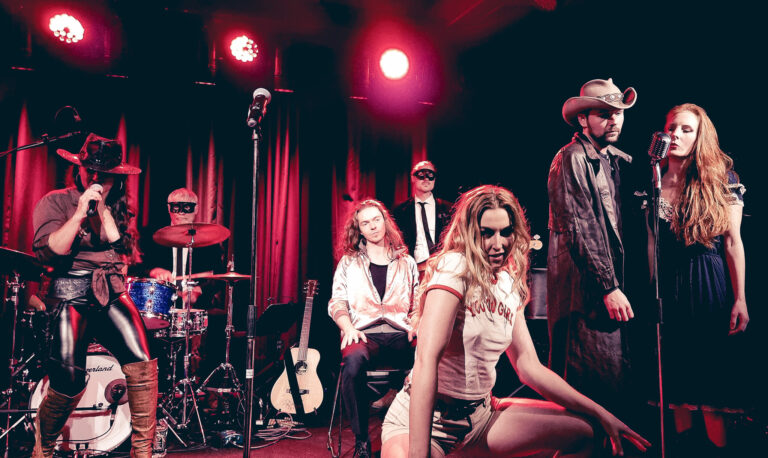 The Tarantino Twist Show is all about rabid dogs and beautiful girls, tequila burning in the throat, music tearing up the ear canals, sweat on the forehead and unforgettable memories etched in the retina like love at first riff.
The Tarantino Twist show is an authentic and innovative tribute to Quentin Tarantino's many iconic films and epic soundtracks. If you don't know the films, you certainly know the sound, and we offer you nothing less than a full-fledged, interactive theatrical concert of international standard, tailored exactly to your venue and your audience.
Venture into our wacky universe, where life is a bloody party filled with tequila, badass women and the scent of whisky and testosterone in the air – we promise you'll never want to go home!
Come dance a twist with Mia Wallace and Vincent Vega, tickle The Gimp behind the ear or swoon over the cool Mr. Blonde and the feisty Jackie Brown.
Crazy 88's provide the evening's soundtrack, bringing the movie sound to life with Surf 'n' Western instrumentals from the California guitar rock wave.
Texas Madhorn, the dusty recluse on tenor sax, adds his own sex appeal to the soundtrack. Public hits like George Bakers A Little Greenbag, Stealers Wheel – Stuck In The Middle With you or Harry Nilsson – Coconut hit both the ear canals and the dance floor.
A complete "The Tarantino Twist Show" usually involves around 11 of Denmark's most talented multidisciplinary artists, along with musicians, actors, dancers and burlesque performers.
Together, we have over 100 years' experience in the Danish entertainment industry, so we guarantee a professional event that will undoubtedly stand out both on the bill and in the cityscape. We're certainly not like the others – and we don't just say so.