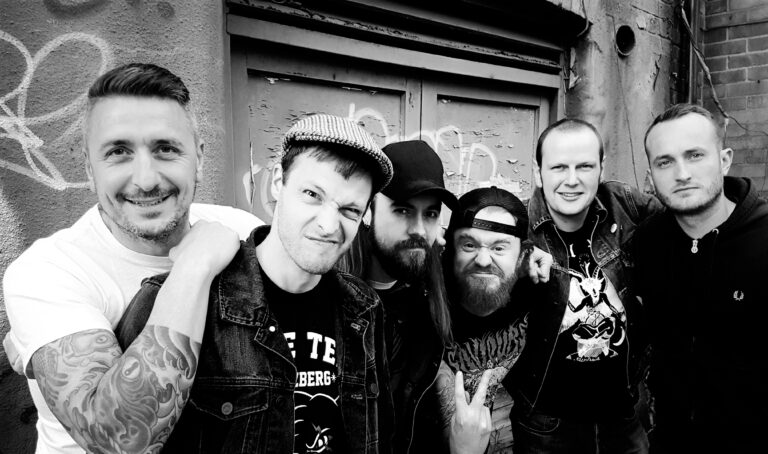 THE FILAMENTS is a fast and furious punk rock band with an Essex brass section that perfectly fills the gap between RANCID's "Let's Go!" album and CONFLICT's politically challenging "The Ungovernable Force".
Debut album "Skull and Trombones" (2001) on New Blood Records.
Tours with THE CASUALTIES, DEADLINE, THE BUSINESS and ROGER MIRET AND THE DISASTERS followed. THE FILAMENTS gained a reputation for their huge live shows in the UK, and even more so on the European continent, where they took part in a series of festivals and headline concerts.
THE FILAMENTS' second album, "What's Next…" (2004), released by Household Name Records, shows greater depth in the band's songwriting; harder UK'82-style punk with a wide range of influences including Dub, Metal and Psychobilly. This long-awaited second album saw THE FILAMENTS take their rightful place alongside modern punk (anti)heroes THE CASUALTIES, US BOMBS and LEFTOVER CRACK.
After the huge response to their album, THE FILAMENTS hit the road.
In March 2006, THE FILAMENTS returned for two consecutive sold-out reunion shows at The Garage in London… and after a series of successful one-off gigs and performances at summer festivals, The Filaments officially reformed in the summer of 2009. 
A third album 'Land of Lions' was released at a sold-out gig at Camden Underworld on March 9, 2013, with a vinyl version released on French label Mass Production.
Since then, The Filaments have re-established themselves at home, playing across the UK, playing their own headline shows and supporting old friends such as LEFTOVER CRACK, STREETDOGS, CHOKING VICTIM etc… on their London appearances.
They toured alongside THE HORRORPOPS and LARS FREDERICKSEN & THE BASTARDS, and at festivals such as Glastonbury, Wasted and Punk'n'Disorderly. But after making huge strides, the band decided to go their separate ways after an astonishing final concert at London's Astoria in July 2005… Vocalist Jon Fawkes decided to move to the USA, and a host of other projects came to fruition with Filaments members working on bands such as The 241ers, Black Radio, Suicide Bid, Deadline, The King Blues, and many more…