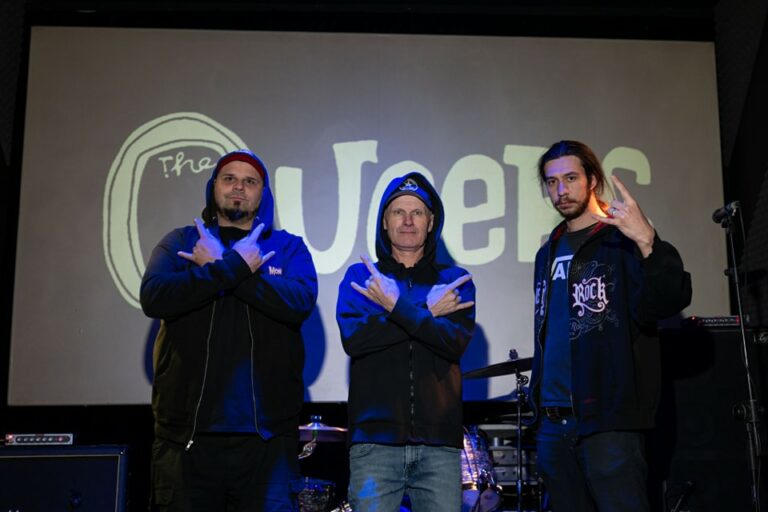 Singer and guitarist Joe King has taken the stage name Joe Queer. The band's name typifies the trio's humorous side. In English, queer refers to homosexuality, although none of the members of the Queers are homosexual. Most of the songs deal with light subjects such as beer and girls, and Joe Queer has refused for over two decades to convey any political message with his music, preferring to play punk rock for the simple pleasure of playing fast and loud. In recent years, he's had run-ins with street punk bands, particularly the Dropkick Murphys, whom he accuses, along with other punk bands, of making "the current punk scene (or what's left of it) full of assholes who just want to fight". The band originally broke up in 1984.
In 1986, they reformed with Joe Queer and a new line-up. In 1990, the band signed with Shakin' Street Records and released their first studio album, Grow Up. The album helped the band gain popularity in New England, but the release of Love Songs for the Retarded on Lookout! Records in 1993 made them even more popular. Hugh O'Neill, drummer from 1993 to 1998, died on January 21, 1999 after a long battle with brain cancer.
Bassist Philip Hill and drummer Lurch Nobody completed The Queers trio in 2006, but over the years there have been many, many changes in the band, with King being the only founding member still present. The Queers release their cover of the song Wipe Out, included in the mockumentary Surf's Up, released in 2007; it is directed by Columbia Pictures and ImageWorks Studios, and produced by Sony Pictures Animation and National Geographic Films.
In 2014, Joe Steinhardt of Don Giovanni Records called on Asian Man Records and Recess Records to send The Queers after Joe Queer publicly endorsed Officer Darren Wilson.