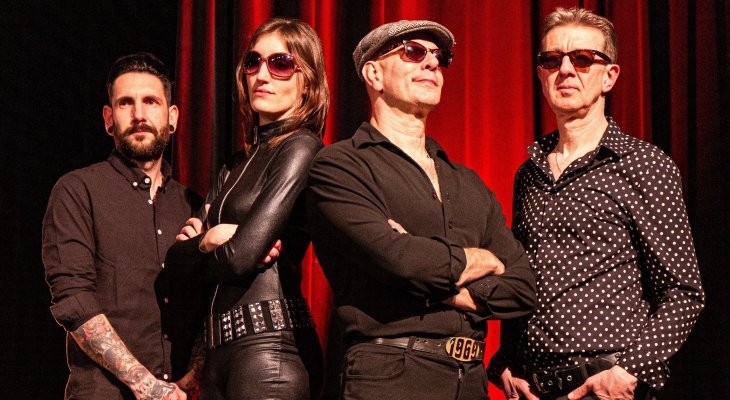 Formed in London by Dj Healer Selecta (Freestyle Records UK) aka Yvan Serrano-Fontova in 2008, with the main focus of writing original material for his brand new personal live music project, based on feel good party music: RockN Roll, Rhythm & Blues, Surf, 60's Garage, 77 Punk Rock. Rapidly after releasing their first single in 2009" Burlesque Queen" on Dirty Water Records England co-written by cult actress Tura Satana and Serrano. Dustaphonics started gigging famous venues in London such as, 100 Club, Jazz Café, The Garage, Borderline, Koko,The Forum, O2. The same year, DJ Healer Selecta was published for his Dustaphonics compositions by Wipe Out Publishing (Sleaford Mods, Jah Wobble, 999, etc.) and quickly Dustaphonics hit the road, touring the UK, Spain, France, Italy, Belgium, Portugal.
Back in England, their idols started noticing.  Dustaphonics accompanied legendary Blues Brothers actor, Dan Aykroyd on stage. They additionally opened for Martha Reeves & The Vandellas, The Sonics, Wanda Jackson, James Hunter, Sam Gopal, Fleshtones, Gallon Drunk, Fuzztones, etc.
Playing in great music festivals in the UK and Europe, such as Lattitude Festival (UK), Raison D'Être's Stage at Clissold Park Fest (London), Nuits Secrètes Fest (FR), Motorbeach Festival (Spain) Les Nuits Alligators (Fr), Cool Soul Fest (Fr) Vintage Weekender Fest (FR) Enclave De Agua (Spain) Cognac Festival (FR) Gutter Island Festival (Denmark) Jazz En Nord (FR) Beat Bespoké Fest (London) Relache (Fr), Blues Autour Du Zing (Fr), Eclats D'Email Jazz Edition (Fr)…
With a legendary energy on stage, 3 x albums and a bunch of singles Dustaphonics will always pleased a large crowd of music lovers with their solid feel good repertoire. Lise Dellac: Vocals, Yvan Serrano: Guitar & Vocals, Ludovic Nagy: Drums, Dan Whaley or Flo Compain on Bass.