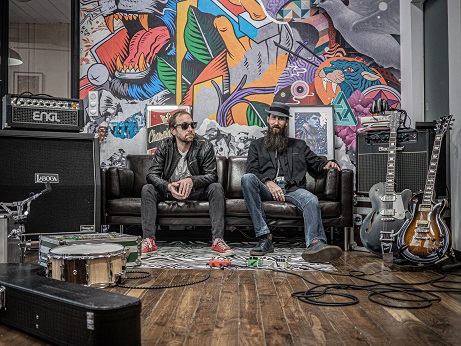 Don't let the Blue in their name fool you. These devils don't just play the devil's music,
even if it can be found in the chord grid or in the spirit of many of their tracks.
When asked about common influences, Ray and Oliv cite Led Zeppelin. The dented image of that old hand Seasick
Steve also hovers over them. And Jack White is invoked for his seventies edge and love of raw sound.
Inspiration, like the band's name, is spontaneous.
The duo compose in the studio while jamming. The same goes for the lyrics, at the risk of depressing those anxious about the blank page.
"I write everything down in a notebook. I've got bits of sentences in my pockets. This time, they were written to music,
and then we built a story.
This new album is mixed and mastered by Jim Diamond (The White Stripes, The Dirtbombs, The Legendary Tigerman, etc.).
Legendary Tigerman, etc.), who understands what the duo want: a punchy sound, flirting with red.