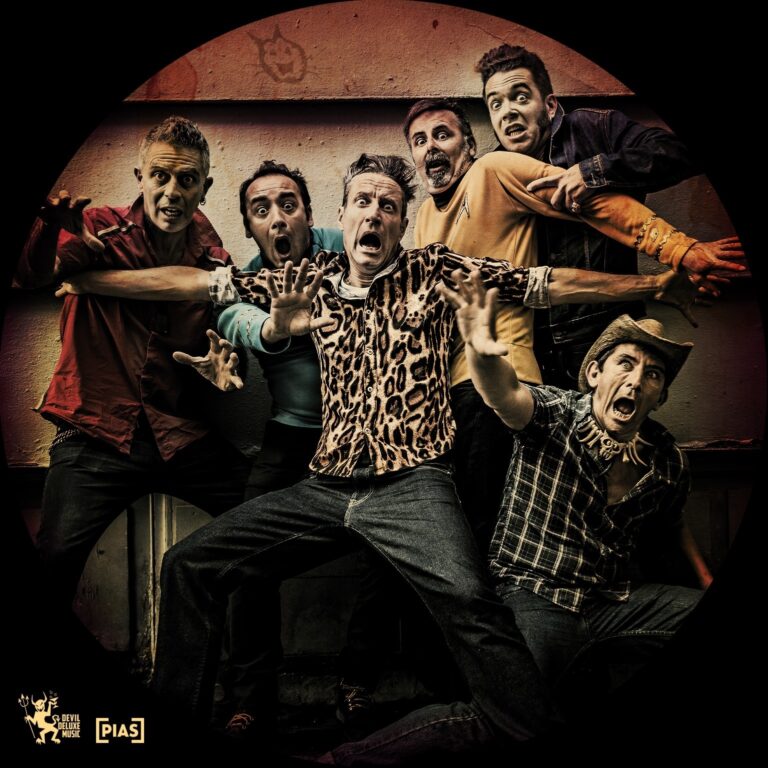 But what's going on with this colorful band, who've got us used to covers worthy of a July 14th fireworks display? After 38 years, they're making their first album cover in black and white (or almost… a little yellow)! And inside, a psychedelic medley of black-and-white baroque engravings! Have they become atrociously classic and well-mannered, has their music become a kind of ersatz of a posthumous and depressive Joy Division, have they given in to the temptation of post-punk and bourgeois rock revival 80's fashion? But nay, they've gone their own way, as usual, away from fashions and trends, the better to surprise us in the corner of the jungle.
This is an album they wanted to be very close to their stage energy, raw, frontal and racy, mixed by Seb Lohro of Near Deaf Experience. They remain elusive, mixing garage rock and theremin on "Man made monster", punkabilly and brass on "Monkey Brain", Sergio Leone-style surf rock on "Mata Hari", pure punk rock in the English 77 tradition on "Are we all zombies?", exploding blues on "I need a place to cry", almost pop on "Rattlesnake woman", or surprisingly Nick "Cavien" on the track "Coal and roses". Not to mention a return to the roots of the first "Go Vegetables go!" album, which made them a success in 1986, on "Swamp thing".
Unclassifiable tracks, but with a mastery of arrangements that would make Bela Lugosi turn in his grave, creating a surprising unity between the different musical universes tackled. The palette is broad, but the color is rock'n'roll, the keys to which they have long held.
The lyrics are as cynical, quirky and humorous as ever, or dark and romantic, influenced as much by films like Bad Taste ("Monkey Brain") as by the cinema of Sergio Leone ("Mata Hari"). They mix concepts like others make cocktails on Copacabana beach. Over the years, Mat Firehair has managed to vary his vocal repertoire from crooner (Coal and roses, Mata Hari) to sprechgesang (Man made monster), from the most bluesily disheveled Howler-style vocals of the 50s (I need a place to cry) to primitive garage punk (Are we all zombies?).
The brass section's work is as astonishing as ever, taking the band far from the basic simplicity of punk rock while retaining its immediacy and instinct. Juju's trumpet on "Mata Hari" alone creates a universe that transports us into the arms of the mysterious spy. The guitar on "The Duke" is at times surf, at times aggressive, shifting from one register to another without shocking our ears as pointy-eared Spock fans. The Duke's mastery of the genres he tackles is always elegant, precise and original, making him one of the most promising guitarists of his generation. "Monkey Brain", the band's 13th album (excluding compilations), is not just another Wash album, but always a pleasant new surprise. This band has never stopped blurring the lines since its inception, opening new doors without closing others. The Dead Cats know how to renew themselves with unparalleled feline grace, and they prove it once again.